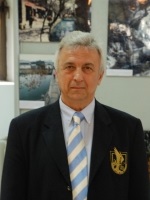 Rector 1992-2004
Prof. univ. dr.
Dumitru Ciocoi Pop
---
"Take a people's faith and spiritual identity and leave them concerned only with the material worries of the day, and you will see it turn into an amorphous mass of individuals who will be lost in frustration before they are even forgotten by history. "
Prof. univ. Dr. Dumitru Ciocoi-Pop was born on September 12, 1943, in Bucharest. He attended the courses of the Babeş-Bolyai University in Cluj, the English and American Literature specialty, graduated in 1977 as PhD in Philology. In the early 1970s he made his debut as a teaching assistant professor at the British and American Studies Department at the Lucian Blaga University in Sibiu. Later, in 1992, he served as professor at the faculty of Letters, History and Law, antecedent of the Faculty of Letters and Arts of the present. In 1990 he became a dean of this faculty for two years, a period in which he directed his destinies to world academic academic experience, especially American and European.
After 1992, Prof.univ.dr. Dumitru Ciocoi-Pop embraced the post of rector of "Lucian Blaga" University, promoting an unprecedented policy of academic contacts and connections. It aimed to impose the young Sibiu University at the forefront of Romanian university education through a large international cooperation.
In 1995, under his leadership and order of the Minister of Education, the Sibiu institution is under the patronage of the spiritual brand: "Lucian Blaga" University of Sibiu.
As a recognition of his merits, prof. Dr. Dumitru Ciocoi-Pop received the title of "Citizen of Honor of Sibiu" in 1997.