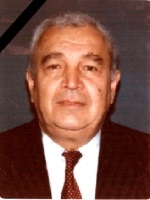 Rector 1977-1984
Prof. univ. dr. ing.
Grațian Ștețiu
---
"At LBUS we have conditions of the highest level, but the problem is how much we personally involve in the welfare and advancement of the university, in three major directions: research, discipline, quality."
He was born on July 19, 1933 in Sighetu Marmatiei. He attended the courses of the Polytechnic Institute of Cluj, Faculty of Mechanics, between 1951 and 1956, after which he embraced the university career in Cluj, the department of Machine Building Technology (metal cutting, cutting tools , cold deformation technology, tolerances and technical measurements).
In 1976 he set the foundations of higher education in Sibiu bringing for the first time T.C.M. (machine building technology) in the Faculty of Engineering. Between 1977-1984 he was rector of the Higher Education Institute in Sibiu. In 1992, he is also rector of the University of Sibiu, thanks to his rich experience defining a good manager, succeeding in bringing numerous awards and awards to the university.