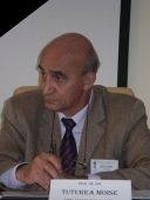 Rector 1991-1992
Prof. univ. dr. ing. ec.
Moise Țuțurea
---
"Professor Ph. D. engineer and economist Moses Tuturea was involved in starting a program with Missouri University in the United States, which would later lead to the establishment of LBUS School of Economic Engineering."
The tireless work and perseverance he has shown are the ones who helped him to build a quality school here in Sibiu, through which he would also form and model whole graduate promotions. The engineers trained in the School of Economics would become important people for different spheres of activity.
Professor Moise Ţuţurea has spent more than 12 years at the head of the Economic Engineering Department, often being considered a true example, but also a mentor for both teaching staff and students. Moise Ţuţurea, was one of the most beloved and appreciated teachers of "Lucian Blaga" University.
Born in 1943 in Beclean, Braşov County, he graduated from the studies of the Polytechnic Institute of Brasov, A.S.E. Bucharest and the Technical University of Cluj-Napoca. He has taken part in numerous international specializations, from countries like Spain and Great Britain, but also in USA and Australia.
With the sad disappearance of Moses Ţuţurea, "Lucian Blaga" University lost one of the people who founded the technical high school Sibiu, a special person for everything that means the academic environment, but also a recognized academic personality both on national level and on international plan.