The sumptuous outfits
The adoption by a modern university without a medieval past but in a medieval city with a university background of the sumptuous medieval outfit occurred took place under the pressure of students, induced by the cinematic imagery of American colleges.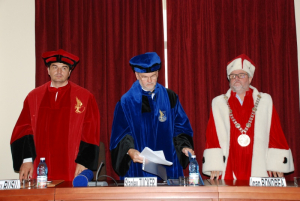 Since the students spontaneously adopted university outfits of medieval tradition, on the occasion of the graduation ceremony, the university was forced to develop a regular sumptuous clothing system, hierarchical, correct semiotic and historical. The study of the history of the traditional university sumptuous costume was made by Dr. Mihai Turcu, the graphic projects submitted to the election of the Senate were made by Marian Florea, the prototypes and the actual realization of the pieces by Assoc. Prof. Dr. Ion Neagu and his students in the textile technology laboratory. Supervision of the entire work and the logistic coordination was provided by Prof. Dr. Ioan Ştefănuţă.
The outfits develop hierarchically starting from the basic outfit, the doctor's outfit. The type chosen it is that of the university attire of the thirteenth century, the original one. The hat of doctor, the distinctive piece of doctoral quality, a sign of belonging to a privileged medieval state, it is of the beret type with a quadrilateral plan with turned-up edges, made of black velvet. It is completed with a wide, long thick silk robe black with black velvet linings and lining and black velvet loros.
The participation of university doctors in university magistracies is signaled by outfit linings. The senators are distinguished by the red cap of the doctor's hat, the red loros, lining and red velvet lining of the robe visible at the high reflection of the sleeves. The special attire of the Honoris Causa Doctors is that of the doctors, but with purple linings, heraldic color corresponding to the condition of excellence. The University's Chief Secretary wears a black suit with green velvet linings.
Predoctoral university conditions, including students, are distinguished by the color blue with indigo blue linings, students, at their choice, wear caps with rigid quadrilateral termination. The reconstruction of medieval university attire of the 13th century type used graphic and pictorial documents, frescoes and panel or book lights from the period. Despite the lack of tradition of universities in this regard, the university clothing system expresses our university's adherence adherence to European academic values and is a response to the desire of students to emphasize their university status. The system manages to signal the structure of position and rank but also the unity of the university body. The clothing does not usurp and does not copy the individualized expression of the outfits of other universities, but it conforms to the original system of clothing of state, order and medieval European rank.