Symbols and distinctions
The university is an urban corporation of medieval European origin, which has produced and reproduced through the free association of students and teachers to promote their interests related to the free methodical transmission and production of higher knowledge, institutionalized activity on study subjects, programs, exams and study certificates. All of them are parties and are subject to a domestic jurisdiction defined by a jointly agreed Carta.
During the Middle Ages, universities were under the protection of the two universal authorities ​​of Europe: spiritual – the Holy Seate and secular – the King of the Holy Roman Empire, both conferring immunity on university corporations and jurisdiction on academics.
The privilege granted by Emperor Frederic Barbarossa in 1155 in Bologna, universities, says:
"By this universal and forever valid law, we therefore decide that from now on let no one have the audacity to do any wrong to no man of the school, nor dare to cause him any harm (…). But if, however, someone would like to take legal action against a schoolboy for some reason, school people should be given the opportunity to choose whether to come to trial before their lord or magistrate, or before to the bishop of the city, to whom I have granted for this right of judgment. And if someone will dare to shoot them before another judge, then his decision, even if it were very justified, to be annulled, because of such audacity. For, in doing good, we deserve our praise and protection it deserves like all those through whose science the world is enlightened, and the life of the subjects is directed to obey God and us, His servants, to defend them with love for any injustice. (Imperial Constitutions, trans. Tanaşoca).
Through this privilege, academics become a state, a social class defined with distinct and duties, established by law. In accordance with the valorization of the profession and the privilege of universities, university students gain honor and prestige, collectively attributed to all members. From the moment the information becomes power, universities and the university elite have direct or mediated access to power.
In Romania, through the Constitution, universities are autonomous, they exist according to their own Carta under the authority of the Senate and the power entrusted by the Senate to the Rector.
This status of the institution and academics is signaled by traditional institutionalized signs that symbolically communicate social meanings and values. These are:
---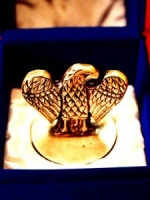 The object corresponds to the institution of the right of seal of autonomous legal persons ...
---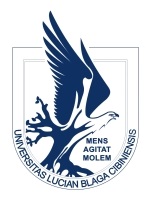 The university adopted as its symbol the metamorphosis of the rooted, green tree that becomes an eagle ...
---
---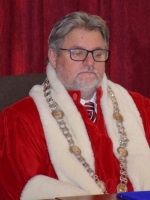 It is an ensemble that symbolically communicates through conventions on the medieval dress language, the status ...
---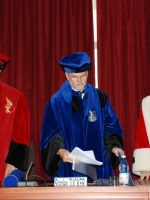 The adoption by a modern university without a medieval past but in a medieval city with a university background ...
---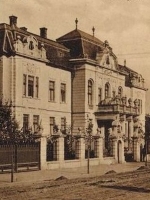 Identity marks of our university contribute to strengthening cohesion ...
---
---