.
.
.
---
---
---
Universitatea Lucian Blaga din Sibiu este una dintre cele 10 universități din România a cărei propunere de proiect a fost acceptată în sesiunea curentă de mini-granturi în cadrul programului Universitatea Antreprenorială, finanțat de cătreRomanian-American Foundation, derulat pentru al patrulea an consecutiv prin Junior Achievement România (JAR).
Meet the entrepreneur este o inițiativă comunitară deschisă, în care ULBS, prin Societatea Antreprenorială Studențească EduHub, se adresează studenților de la toate specializărileuniversității propunându-și să ofere acces la informații practice oferite de antreprenori. Acest program permite Universității să ofere o alternativă de învățare practică alături de programaformală de pregătire academică și în același timp să deschidă posibilitatea de instruire și pentru comunitate.
Cu ajutorul acestui mini-grant proiectul își propune să creeze un conținut digital al evenimentelor. Astfel, antreprenorii vor puteaoferi participanților posibilitatea să învețe din provocările cheie, sfaturile și informațiile despre funcționarea și dezvoltarea unei afaceri și bune practici în aplicarea expertizei într-un anumit domeniu. O bibliotecă cu conținut digital și accesul la aceasta vor extinde impactul, va permite, de asemenea, ULBS să deschidă această platformă spre întreaga comunitate.
Conceptul original a fost inițiat de BRCC împreună cu ULBS în anul 2018 prin lansarea unor serii de forumuri "Antreprenori de succes – învață de la ….". Până în prezent s-au desfășurat 15 evenimente pe perioada activităților didactice, o dată la două săptămâni ele fiind deschise atât studenților, cât și publicului larg.
Societatea Antreprenorială Studențească EduHub din cadrul ULBS a fost înființată în anul 2017 în baza OM nr.3262/2017 și are ca misiune crearea unui mediu propice și a unui cadru complementar pentru susținerea și dezvoltarea spiritului antreprenorial al studenților din ULBS, de la toate ciclurile de învățământ, inclusiv în rândul propriilor absolvenți. Prin acțiunile sale, EduHub urmărește conștientizarea cu privire la oportunitățile antreprenoriale, angajarea pe cont propriu și promovarea unei atitudini pozitive față de cultura antreprenorială în rândul studenților. Pentru a fi la curent cu proiectele derulate prin EduHub puteți accesa pagina http://eduhub.ulbsibiu.ro/ sau pagina de Facebook a EduHubhttps://www.facebook.com/ulbs.eduhub.
Programul JA Universitatea Antreprenorială își propune o nouă abordare a antreprenoriatului și a inovației în mediul universitar având ca scop sprijinirea universităților în dezvoltarea abordărilor antreprenoriale și intraprenoriale, la nivel de management, în relație cu comunitatea de business, precum și a educației antreprenoriale și pregătirii dinamice a studenților pentru piața muncii.
Junior Achievement România este o organizație nonprofitfondată în anul 1993 fiind parte a JA Worldwide® USA și JA Europe. Junior Achievement este cea mai mare organizație internațională de educație antreprenorială, economică, financiară și STEM, de orientare profesională, sănătate și dezvoltare a abilităților pentru viață, programele sale fiind urmate în 40 de țări din Europa și peste 100 din lume. În România, programele JA de tip "learning by doing" și "project based" sunt urmate anual de peste 230.000 de elevi și studenți din peste 1.700 de instituții de învățământ și se desfășoară local în parteneriat cu Ministerul Educației, instituțiile de învățământ și comunitatea de afaceri. Mai multe detalii sunt disponibile pe www.jaromania.org
Mai multe informații despre editiile anterioare ale programului JA Universitatea Antreprenorială pot fi consultate aici: https://www.jaromania.org/noutati/universitatea-antreprenoriala-la-a-treia-editie-de-mini-granturi-pentru-proiecte-ale-universitatilor.
Descriere eveniment
Although these two words seemed to be interchanged quite easily in conversations and readings, there is a distinct difference between MOTIVATION and MINDSET.
This discussion would like to provide the participants with a boost, to put their ideas into practice. Offering arguments and examples of how to deal with different challenges or problems when you need to accomplish a result.
In short, we intend to generate a feeling of clarity toward your growth direction, that will push you forward to accomplish a specific goal or desire, and help you remove or positively resolve any roadblocks.
We invite our audience to visualize in their own mind their story and to establish a two-way communication listening the words our panelists are saying, asking clarifications so that their achieved vision will last more than a simple PowerPoint slide show.
So, challenge yourself to participate to our conversation.
Train yourself by asking question to clarify how to accomplish your dreams, how to face challenges, uncertainties, fear, joy, failure and happiness.
Înregistrare participare eveniment:
https://docs.google.com/forms/d/e/1FAIpQLSc1Il3ta4S_Ke0RLLNt5MQMtp6ErZROBbiHKMb-rYVlY6qCfA/viewform
Unde și când?
The event will take place on Tuesday, April 13, 2021 online from 19:00 to 20:30
Who are our quests?
Norman Frankel – is president of BRCC Sibiu Norman Frankel anda serial entrepreneur who first opened an office in Sibiu in 2007 for MiPay the international payments company he founded before exiting after an AIM London Stock Exchange Listing in 2014.  He has helped other local business start-ups along the way and has been involved in a cybersecurity business that uses robotic process software automation. Norman has authored a book Executive-Me which is available to buy on Amazon.
Robert Rowe – he runs a long-standing NGO called Love LightRomania since 2002 and is managing projects since 2006. He is a qualified life coach and NLP practitioner working with people who are overwhelmed, lost and who don't feel in control of their lives.
Iuliana Marchian – who is a travel writer/blogger but also a Transformational Mindset & Energy coach. In her writing, she focuses on the cultural aspects of her travels, with a special interest in the authentic experiences of a place.
Liliana Paraipan – who is an entrepreneur in the Spa/Wellness space and now runs Mindfulness & Wellness workshops. She has graduated a Mindfulness-based stress reduction (MBSR) based program at University of Massachusetts Medical School and offers intensive mindfulness training to assist people with stress, anxiety, depression and pain.
Kristina Ratiu – She is the mother of two children, visual artist, accredited art therapist and founder of the Farbenlicht space, a space for art, art therapy and creative research. Here she works with children and adults, in courses, workshops and individual art therapy sessions. She is concerned with researching areas and topics such as identity, neuroscience, psychology, epigenetics, spirituality and the dynamics / stages of the creative-therapeutic process. The visual means of expression she uses in her own creative processes are painting, drawing, installation, video and performance.
As an art-therapist she participated in art-therapeutic research projects in several clinics in Germany, working with children, young people and adults:
• University Clinic of Psychiatry and Psychotherapy for adults, Bonn;
• Clinic of Psychiatry, psychosomatic and psychotherapy for children and young people Rehbergpark, Herborn;
• Lahnhoehe Hospital, within the Center for Anthroposophical and Holistic Psychosomatic Medicine for Adults, Koblenz;
• Herdecke Hospital, psychiatric ward for children and young people, Herdecke
• Atelier fuer Kunsttherapie, Artig, Cologne.
Livia Ilie
President of the EduHub Student Entrepreneurial Society within ULBS, Vice-Rector for Organizational and Financial Strategy within ULBS during 2012-2020.
As vice-rector she
– coordinated the working group for the elaboration of the ULBS 2020 Strategy Sustainability and excellence for the community, a strategy based on a stakeholder analysis and involving all teaching and administrative structures
– developed the partnership with the pre-university environment; initiating and coordinating the activities of counseling and career guidance of students, as well as the annual organization of the Summer School for students Choose your SMART career!
– coordinated the implementation of a strategic tool for entrepreneurial universities, HEInnovate. Entrepreneurial universities are those that develop entrepreneurship education programs and act in an entrepreneurial way to meet the challenges that arise in the real environment.
---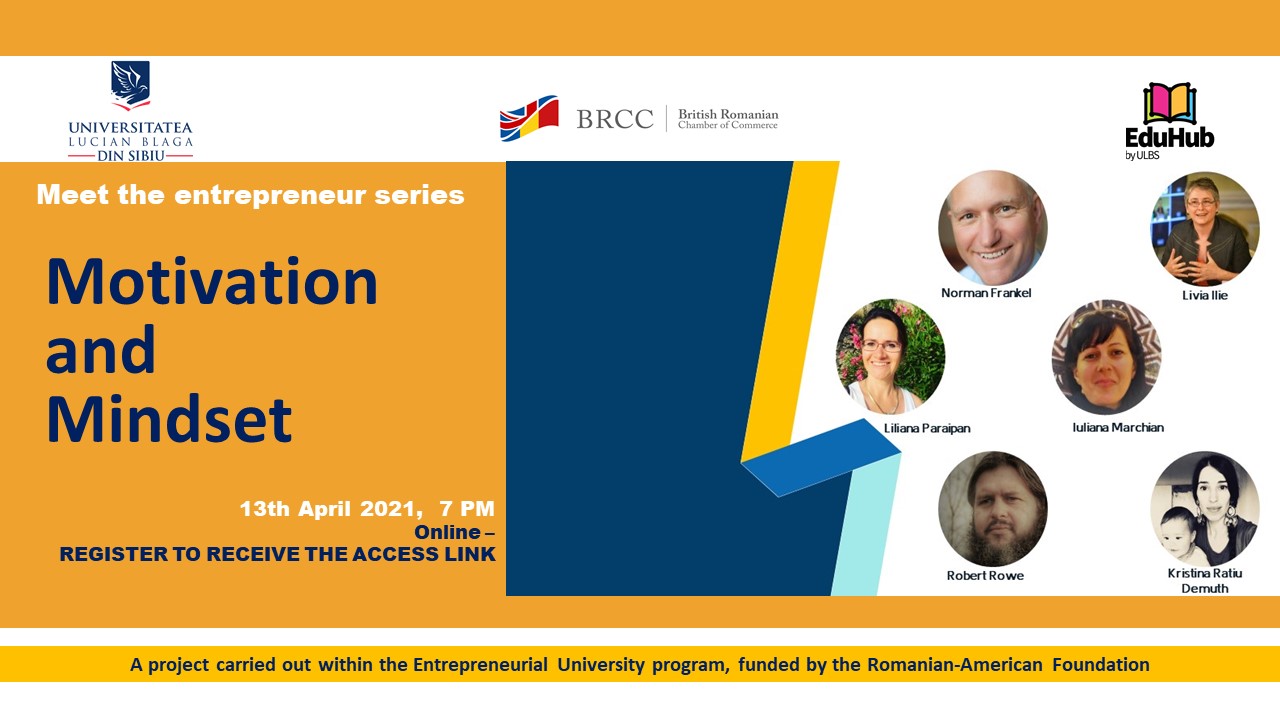 ---