.
.
.
---
---
---
ULBS are acces la baza de date stiințifică EBSCO, prin intermediul consorțiului AnelisPlus 2020.
Începând cu data de 1 noiembrie 2018 si până la sfârșitul acestui an, compania ROMDIDAC și EBSCO Information Services pun la dispoziția ULBS accesul gratuit la o serie de alte baze de date.
Bazele de date disponibile pe platforma EBSCOhost ( http://search.ebscohost.com ) sunt următoarele:
• Academic Search Ultimate
• Applied Science and Technology Source Ultimate
• Business Source Ultimate
• Computers & Applied Sciences Complete
• CINAHL Complete
• Dentistry & Oral Sciences Source
• DynaMed Plus
• Humanities Source Ultimate
• MEDLINE Complete
• Sociology Source Ultimate
• Sport Discus with Full Text
Accesul este disponibil pentru toți utilizatorii din cadrul instituției pe baza adresei de IP dar și/sau a conturilor de acces mobil create de utilizatori.
ROMDIDAC oferă utilizatorilor din ULBS posibilitatea de a-și crea conturi de acces mobil, care permit consultarea pe bază de nume de utilizator și parolă a resurselor abonate prin intermediul consorțiului.
Formularul pentru activarea contului de acces mobil este disponibil pe site-ul ROMDIDAC dedicat proiectului, la adresa: http://www.info-edu.ro/activare-cont-ebsco.php
Mai multe informații găsiți la adresa web : http://www.romdidac.ro/Baze-de-date
si pe pagina bibliotecii: http://bcu.ulbsibiu.ro/news/2018/ebsco-trial.htm
---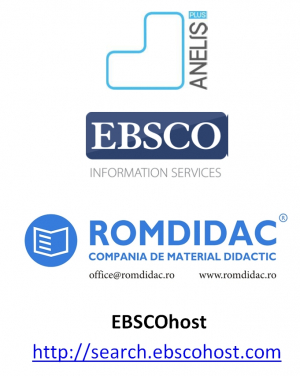 ---