.
.
.
---
---
---
În 26 și 27 octombrie 2023, Universitatea Lucian Blaga din Sibiu va găzdui conferința academică internațională cu titlul "Revisiting Cultural Heritage: Novel Approaches, Innovative Methods, and Transnational Connections".
Patrimoniul cultural reprezintă unul dintre cele mai înfloritoare domenii de cercetare interdisciplinară în domeniul științelor sociale și umaniste din ultimele decenii, iar întrebările referitoare la politicile de conservare și gestionare a patrimoniului cultural ocupă un loc important pe agendele academice și politice.
Evenimentul este organizat în cadrul proiectului ELABCHROM, afiliat la Alianța FORTHEM, în parteneriat cu Universitatea din Jyväskylä (Finlanda) și Universitatea Bourgogne (Franța).
 În cadrul conferinței, experți europeni în domeniu vor explora tema patrimoniului cultural în calitate de keynote speakers: Suzie Thomas, Professor of Heritage la Universitatea din Antwerp, Belgia, Tuuli Lähdesmäki, Associate Professor of Art History la Universitatea din Jyväskylä, Finlanda, Docent în Critical Heritage Studies la Universitatea din Turku, Finlanda, și Mathieu Viau-Courville, director of the Office of Museum Cooperation and Information (OCIM), University of Burgundy/Ministry of Higher Education and Research, Franța. 
La eveniment vor participa 85 de cadre didactice și cercetători de la universități din țară și din Europa, care vor prezenta lucrări pe teme legate de:
Muzee și conservarea patrimoniului cultural

Patrimoniu, consum și turism

Patrimoniul abandonat

Managementul patrimoniului cultural

Dinamica patrimoniului cultural

Arheologie și patrimoniu material

Perspective de gen în patrimoniul cultural

Patrimoniul istoric, cultural și material

Aspecte metodologice în patrimoniul cultural

Probleme tehnice în patrimoniul material

Patrimoniul cultural: părți interesate și proiecte

Festivalurile și interpretarea patrimoniului cultural

Identități în patrimoniul cultural

Patrimoniul cultural în literatură și artă

Politici culturale ale patrimoniului
Pentru programul complet al evenimentului, vă invităm să accesați: https://grants.ulbsibiu.ro/elabchrom/wp-content/uploads/ELABCHROM_Detailed_conference_program.pdf
Mai multe detalii privind conferința sunt disponibile la: https://grants.ulbsibiu.ro/elabchrom/conference/
---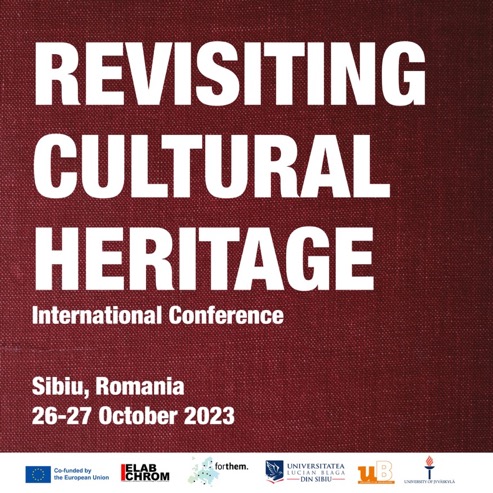 ---