.
.
.
---
---
---
În perioada 19 – 22 octombrie Universitatea "Lucian Blaga" din Sibiu a găzduit ediția a 8-a a Balkan Region Conference on Engineering and Business Education (BRCEBE) și cea de a 10-a ediție a International Conference on Engineering and Business Education (ICEBE) evenimente înscrise în calendarul manifestărilor științifice prezentat de ULBS și caracterizate printr-o îndelungată tradiție. Alături de ULBS și Wismar University, în comitetele științifice și de organizare, au venit în parteneriat: Hebei GEO University, China, La Consolacion University – Philippines, Østfold University College, Fredrikstad – Norway, Cape Peninsula University of Technology, South Africa, Gujarat University of Technology, Ahmedabad – India, Alexander Technological Educational Institute of Thessaloniki – Greece.
Tema 2017 "Creating a mindset for growth and socio-economic development", a determinat înscrierea în conferință a unor lucrări ştiinţifice prezentate de specialişti de marcă din 15 ţări.
Obiectivul major al acestor conferințe îl reprezintă prezentarea celor mai noi tendințe în domeniul educației în inginerie și management, precum și corelarea evoluției învățământului superior cu progresul mediului de afaceri, la nivel local, regional și global, în contextul unor schimbări imprevizibile și rapide.
În cadrul unor prezentări în plen sau în workshop-uri, nume prestigioase din domeniul managementului, educației în inginerie, au abordat subiecte care s-au bucurat de aprecierea unui public avizat și deschis la dezbaterea unor teme de interes pentru lumea academică sau pentru comunitatea de afaceri: Performance measuring model of the university-industry collaboration to support open innovation processes (Prof.dr. Anca Drăghici – Universitatea Politehnică Timișoara); Disruptions in shared-economy & artificial intelligence era: opportunities & challenges , Penta-Helix Edupreneurial Mindset for the Age of Social-Economic Disruptions, Hoax Communication and Augmented Intelligence (Dr. Ronny Adhikarya – USA) , New developments in European Higher Education Quality Assurance and their impact on the realization of the Europeans Higher Education Area (Dr. Iring Wasser ,ASIIN CEO – Accreditation Agency for Study Programmes of Engineering, Information Science, Natural Sciences and Mathematics, Germany); Interplay between Technology and Culture (Prof. Dr. Norbert Gruenwald – Wismar University); Conflict-Driven Innovation for Smart Transformation of Public Univers (Prof. Dr. Stelian Brad – Universitatea Tehnică – Cluj Napoca); Mindset – the way you think about yourself in the world influences your ability to achieve your potential. Understand yours, and learn to optimize it! (Nina Mapili – Mapili GMBH USA,Germany).
Lucrările Conferinței s-au desfășurat în spațiile generoase ale Universității "Lucian Blaga" din Sibiu și au fost un punct de convergență științifică pentru cadrele universitare, doctoranzi, reprezentanți ai mediului de afaceri, studenți preocupați de temele propuse de organizatori.
Oaspeții din Germania, China, Statele Unite, Polonia, Indonezia, Lituania, Irlanda, Irak, Slovacia, Italia, Grecia, Polonia, Kazakhstan, Norvegia au avut prilejul de a cunoaște valorile Sibiului, au schimbat idei și impresii, au găsit suport pentru a-și exprima punctele de vedere în fața unor profesioniști, au primit sugestii pentru rezolvarea unor probleme științifice de actualitate.
Conferința, al cărei site poate fi accesat la adresa http://conferences.ulbsibiu.ro/brcebe/, a reprezentat o oportunitate pentru participanții din mediul academic şi socio-economic de a schimba idei, de a avea acces la informații de actualitate în domeniul ingineriei și managementului, de a pune bazele unor colaborări viitoare în domenii de interes.
---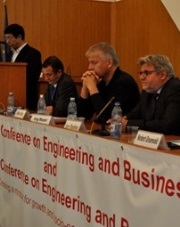 ---