.
.
.
---
---
---
Began on 19 September 2021, the 10-days "Summer Field School on Mountain Ecosystems and Resource Management (FSc MER 2021) is concluded with a panel discussion in Special Session in which 33 noted scientists and practitioners of mountain sustainability took part. To build the capacities of future mountain leaders (researchers, students, practitioners and scholars), Canada-based The Grassroots Institute conceptualized and launched in May 2019 this 10-days global capacity building program, which was co-organized by 66 Partner Institutions (universities, research institutes, colleges, national parks) and Collaborating Organizations (NGOs and municipal councils) belonging to 22 countries of Europe, Asia and North America.
With a Roundtable for Mountains, this program was opened on 19 September in order of the 9 technical sessions groups by 11 Guests of Honor: (1) Prof. Dr. Eng. Gabriela Teodorescu, Vice Rector of Valahia University of Targoviste of Romania), (2) Mr. Antonio Oposa, Philippine's Environmental Activist awarded by Ramon Magsaysay Award, UNEP Global 500 Roll of Honor, and International Environmental Law Award, (3) Rosalaura Romeo, Program Officer at Mountain Partnership Secretariat, Forestry Division, Food and Agriculture Organization of the United Nations (FAO), (4) Prof. Ing. Dr. Hans Peter Nachtnebel, Professor Emeritus at the Institute of Water Management, Hydrology and Hydraulic Engineering, University of Natural Resources and Life Sciences in Austria, (5) Dr. Tobias Salathé, Senior Advisor at the Secretariat of Ramsar Convention on Wetlands, Switzerland, (6) Izabella Koziell, Deputy Director General, International Centre for Integrated Mountain Development (ICIMOD) based in Nepal, (7) Dr. Ilse Köhler-Rollefson, Author, Scientist, Activist & Founder of League for Pastoral Peoples and Endogenous Livestock Development, Germany, (8) Prof. Dr. Konstantia Koutouki, Full Professor at the Faculté de droit, Université de Montréal, Senior Director of Nomomente Institute, Research Expert at McGill University's Quebec Centre for Biodiversity Science, President of International Law Association – Canada Branch, & Lead Counsel NRM, Centre for International Sustainable Development Law in Canada, (9) Mr. Harald Egerer, Head of the Carpathian Convention Secretariat, United Nations Environment Programme (UNEP), Vienna Office in Austria, (10) Dr. Alain Peeters, Secretary of the European Association for Agroecology, Belgium, and (11) Prof. Dr. Anatoly Getman, Rector of Yaroslav Mudriy National Law University of Ukraine, & Academician of the National Academy of Legal Sciences of Ukraine, Doctor of Juridical Sciences, Honored Worker of Science and Technology of Ukraine, and Laureate of the State Prize of Ukraine. The Roundtable for Mountains was moderated by Dr. Ievgeniia Kopytsia, Associate Professor, Yaroslav Mudriy National Law University, Kharkiv (Ukraine), & Deputy Editor-in-Chief of the Journal of Environmental Law & Policy.
This international training program presented the mountain ecosystems in contexts of human development and natural resources, principles of managing natural resources, and governing the resources for sustainable conservation. Depicting on case studies from a wide range of the current natural resources across the globe, the program considered how different social, political, economic and cultural and gender aspects compete for and sustain the natural resources in mountain ecosystems. The program also examined how environmental activists and their interventions conserved parks, energy, water and land in the face of climate variability. The program also reiterated how the current international and development system elaborates and processes to sustainably manage the available natural resources in mountain landscapes. The program aimed at equipping researchers, students, practitioners and teachers seeking lessons on mountain ecosystems and sustainable development, with practical approaches, knowledge and skills necessary for meeting challenges of sustainable use of natural resources globally. The FSc MER covered the contexts of mountain regions globally i.e., Himalayas, Alps, Andes, Rockies, Karakoram, Pamir, Carpathian, Caucasus, Mount Kenya, etc. Attracting the participants and faculty members from across the world, this program was conducted in English covering the contemporary current topics on the broad areas, such as: (1) Mountain Ecosystems; (2) Freshwater Ecosystems; (3) Forest Ecology; (4) Grassland Ecosystems; (5) Biodiversity Conservation; (6) Wildlife Management; (7) Ecotourism; (8) Park-People Interface; (9) Participatory Resource Management; (10) Watershed Management; (11) Sustainable Agriculture & Organic Farming; (12) Agro-Biodiversity; (13) Transhumance & Pastoralism; (14) Livestock Production; (15) Mountain Livelihoods; (16) Mountain-based Conventions; (17) SDGs & Mountains; (18) Mountain Sustainability; (19) Climate Change and Mountains. Elaborated details and lecture materials of the program are placed on the website https://www.grassrootsglobal.net/mer2020/program-plan.html.
Originally, this Summer Field School was scheduled to be organized on 6-15 July 2020 at Hutsulshchyna National Nature Park situated in Kosiv District Council in Ukraine's Carpathian Mountains. The COVID pandemic affected the program and it was converted into a global virtual event that finally took place since 19 September till 28 September. Over the 9 days, 26 technical sessions covering 108 lectures by 97 experts and faculty members belonging to 36 countries along with 93 presentations by 95 delegate participants were conducted. 50 chairs and co-chairs facilitated 26 sessions. 405 learner participants from 69 countries attended the sessions. In total, 550 direct registrants representing 70 countries from all the continents – Asia, Europe, Oceania, Africa, South America and North America – got enrolled on Zoom platform to deliver lectures or presentations and/or attend/learn from the knowledge and experiences shared by diverse and huge pool of resource persons. At least a thousand of people watched the lectures live on the www.facebook.com/grassrootsinstitute.net where livestreaming was done concurrently. The recorded videos of all the lectures and presentations are uploaded on https://www.youtube.com/user/grassrootsinstitute/playlists and learners are benefiting from the recorded lectures without any restriction. The principal indicator of the grand success of this program is that 97 lectures out of 98 planned took place on time with success, and all 26 sessions (except 2 sessions that started merely 5 minutes late) started on exact scheduled time. The participants reflected their views using the zoom's chat window.
Founded by noted field practitioner-cum-scholar Dr. Hasrat Arjjumend, The Grassroots Institute aims to undertake education, capacity building, innovative research, strengthen human development initiatives and take appropriate grassroots field action to empower marginalized communities, Indigenous peoples, ethnic groups, and threatened and vulnerable peoples. The Grassroots Institute was created in 2005 in India and re-established in 2018 in Canada. Ever since the foundation, thrust of The Grassroots Institute has been on natural resources management in mountain areas. Although all the 66 partners and collaborators contributed to the grant success of the program, the partners and collaborators most actively contributed were: International Centre for Integrated Mountain Development (ICIMOD) and Himalayan University Consortium (HUC), Valahia University of Targoviste (Romania), YaroslavMudriy National Law University of Ukraine, Central Himalayan Institute for Nature & Applied Research (India), Rural Development Fund (Kyrgyzstan), Lucian Blaga University of Sibiu (Romania), University of Chittagong (Bangladesh), Assam Don Bosco University (India), Hutsulshchyna National Park (Ukraine), Carpathian National Nature Park (Ukraine), Central Agricultural University Imphal (India), World Agricultural Heritage Forum (Italy), CIPRA Slovenia, University of Banja Luka (Bosnia & Herzegovina), Academician Stepan Demianchuk International University of Economics and Humanities (Ukraine), University of Sarajevo (Bosnia & Herzegovina), Naryn State University (Kyrgyzstan), Climate Action SDG Laboratory (France), Institute of Environmental Economics and Sustainable Development of the National Academy of Sciences of Ukraine, University of Mandalay (Myanmar), Albanian Alps Alliance, Little Earth (Tajikistan), Royal Thimphu College (Bhutan), Mama-86-Yaremche (Ukraine), Sociological Society of Himachal Pradesh (India), Government College Chamba (India), Institute of Socio-Economic Regional Studies (Ukraine), Farmers' Seed Network (China), The Municipal Council of Capizzone Town (Italy), Carpathian Foundation (Hungary), Ivano-Frankivsk National Technical University of Oil and Gas (Ukraine), and Kosiv City Council (Ukraine). The Mountain Partnership based in FAO has supported immensely the Summer Field School through dissemination, networking and lecture. Mobilized and pulled together with the support of active partners and collaborators, the Program Director, Dr. Hasrat Arjjumend, facilitated and enabled 98 experts and faculty members plus 52 chairs and moderators who not only delivered effectively the lectures on diverse range of topics but moderated the sessions very efficiently. These rare experts belonged to leading universities, institutes, national parks, NGOs, UN agencies, government institutions, specialized projects, etc. representing 37 countries namely Albania, Austria, Bangladesh, Bhutan, Bosnia i Herzegovina, Brazil, Brunei Darussalam, Cameroon, Canada, China, Finland, France, Germany, Greece, Hungary, India, Iran, Italy, Japan, Kyrgyzstan, Libya, Macedonia, Malaysia, Mauritius, Nepal, Nigeria, Norway, Philippine, Romania, Slovenia, Spain, Sri Lanka, Tajikistan, Turkey, UAE, Uganda, Ukraine, and USA.
The last session of the Sumer Field School was organized in the form of a Special Session attracting a Panel Discussion for the purpose of future course of action. On 28 September, the session was chaired by renowned scholar and activist Prof. Dr. Parviz Koohafkan, the President of the World Agricultural Heritage Forum, Rome (Italy) and moderated by Dr. Ievgeniia Kopytsia, Associate Professor at the Yaroslav Mudriy National Law University, Kharkiv (Ukraine). When the chair stressed on the important of rich the agricultural heritage and ecosystemic mosaic of mountains to integrate in future capacity building programs, the Program Director, Dr. Hasrat Arjjumend, presented the salient landmarks of the 30 months journey of this Summer Field School. He also proposed and announced this Summer Field School to be held in August 2023 in Carpathian National Nature Parke, Yaremche (Ukraine) with the lead role by intended 10 different universities or institutions. In 2023, there will be a twin 3-5 days global event "Mountain Sustainability Summit" to be hosted by Valahia University of Targoviste in Romania. Both the programs will be in hybrid mode. About 33 Special Panelists took part in the strategic panel discussions. They had given concrete suggestions and recommendations to improve the Summer Field School in 2023. After the conclusion of the School, various participants and faculty members have expressed their opinions and ideas for further academic and knowledge development activities.
Romania: the Lucian Blaga University of Sibiu, was engaged with 6 participants, 2 Faculty members: dr. habil Maria-Mihaela Antofie, associate professor and dr. habil Camelia Sava professor and 5 Delegates: dr. habil Mirela Cărătuș associate professor, dr. Virgil Nicula associate professor, dr. Simona Spânu senior lecturer, dr. Iulian Bratu junior lecturer.
Red listing crops varieties, forestry and climate change, tourism and climate change, poultry into the mountains are among the discussed topics.
IMPORTANT USEFUL LINKS:
Overall Web Content: https://www.grassrootsglobal.net/mer2020/
Program Structure & Lecture Materials: https://www.grassrootsglobal.net/mer2020/program-plan.html
Chairs & Co-Chairs: https://www.grassrootsglobal.net/mer2020/honorable-chairs.html
Special Session Panelists: https://www.grassrootsglobal.net/mer2020/program-plan.html#special
List of Participants: https://www.grassrootsglobal.net/mer2020/result-of-applications.html
Screenshots & Photo Gallery: https://www.grassrootsglobal.net/mer2020/photo-gallery.html
Recorded Videos of Speakers/Lectures: https://www.youtube.com/user/grassrootsinstitute/playlists [click the Full Playlist]
Livestream Channel: https://www.facebook.com/grassrootsinstitute.net
---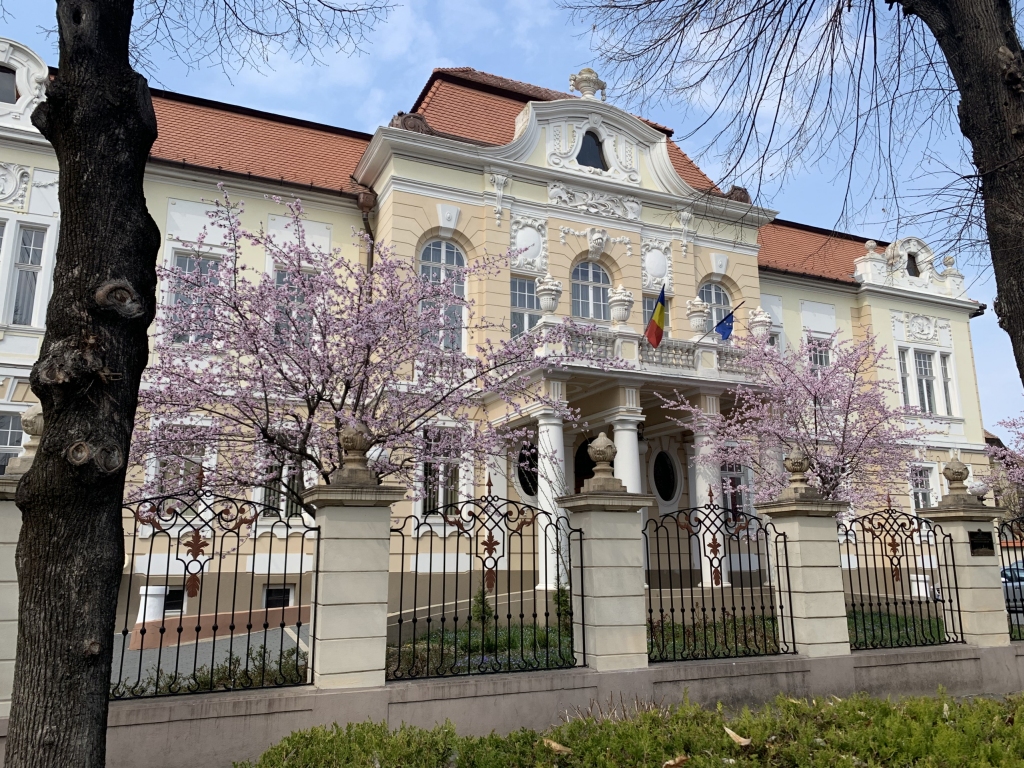 ---