.
.
.
---
---
---
În perioada 16-17 noiembrie 2023, Universitatea Johannes Gutenberg din Mainz (Germania) va găzdui primul simpozion al Think Tank-ului FORTHEM Innovative Learning and Teaching. În 2023 activitățiile Think Tank-ului sunt concentrate în jurul temei "Învățarea bazată pe proiecte în contextul FORTHEM", temă selectată printr-un sondaj online desfășurat la nivelul alianței.
Participanții la simpozion, experți din toate universitățile partenere, își vor împărtăși experiențele și perspectivele cu privire la învățarea bazată pe proiecte, vor discuta diverse metode de implementare și vor explora modul în care universitățile FORTHEM pot beneficia de această abordare.
Cele două prelegeri principale vor fi difuzate pe canalul YouTube al alianței, astfel încât toți membrii FORTHEM să poată participa la acest eveniment. 
Link-urile către conferințele principale sunt disponibile mai jos:
16 noiembrie, 12:15-13:00 (CET), Bettina Braun (JGU): Digitally enhanced project-based learning: Theory and practical experience.
17 noiembrie, 10:15-11:15 (CET), Eva Haug (Amsterdam University of Applied Sciences, European Association for International Education): COIL (Collaborative Online International Learning) and project-based learning: how do we get students to collaborate online?
---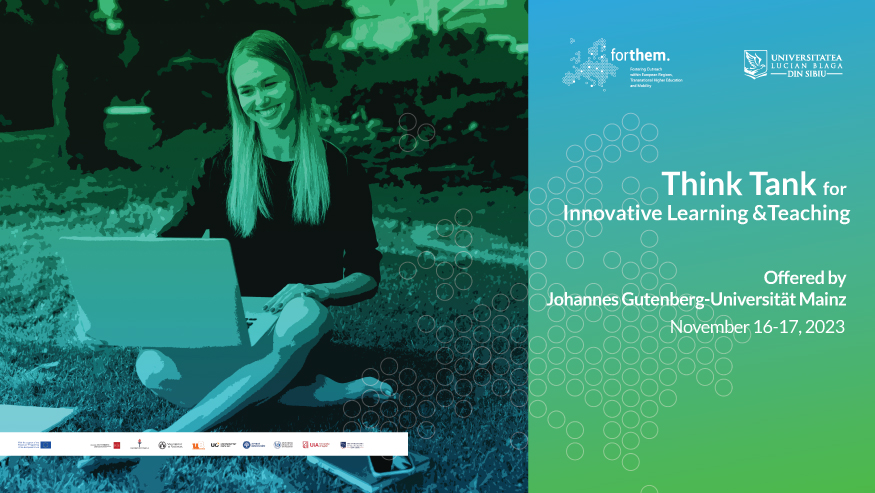 ---