.
.
.
---
---
---
Deschiderea seriei de workshop-uri  din cadrul proiectului european ERASMUS+ Social Growth on Trafficking and Immigration (SOG-TiM) va avea loc marți, 15 mai, începând cu ora 14:30 la Biblioteca Universității "Lucian Blaga" din Sibiu.
'SOG-TIM' F2F Ideation Workshop este primul workshop și se axează pe auto-reflecție și ideație, pe stimularea creativității și înțelegerea conceptelor de bază ale antreprenoriatului social durabil. Prin prezentarea celor mai bune practici din domeniu, workshop-ul vizează idei de inovare socială în domeniul migrației și al traficului de persoane, precum și crearea competențelor de colaborare și a tehnicilor de implicare pentru construirea comunității și a întreprinderilor sociale.
În cadrul proiectului Social Growth on Trafficking and Immigration Universitatea "Lucian Blaga" din Sibiu are următorii parteneri internaționali: Pedal Consulting SRO din Slovacia, The Nest Social Cooperative Enterprise din Grecia, Make a cube srl din Italia, Eolas S.L. din Spania și Universitatea de Științe Sociale Spoleczna Akademia Nauk din Polonia.
Pentru mai multe informații:
Prof.univ.dr. Ioana-Narcisa Crețu – ioana.cretu@ulbsibiu.ro
Dr. Delia Stefenel – deliaste@yahoo.com
---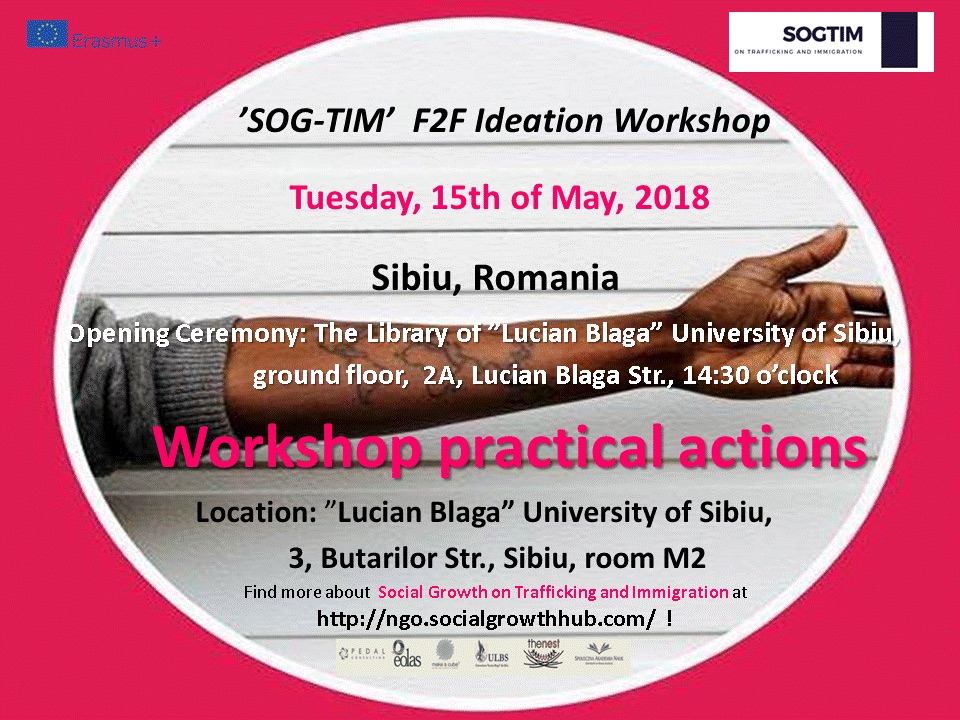 ---