.
.
.
---
---
---
Universitatea "Lucian Blaga" din Sibiu a organizat în perioada 19-21 octombrie 2022 la Brașov, România, întâlnirea transnațională a reprezentanților consorțiului proiectului UniverCity – Strategic Partnerships of Higher Education for Community: Sofia University St Kliment Ohridski – Bulgaria (coordonator), Universitatea "Lucian Blaga" din Sibiu – România, Psiquadro Societa Cooperativa – Italia și Research & Training Point Foundation – Bulgaria. În cadrul întâlnirii, membrii consorțiului au purtat discuții cu privire la progresul activităților desfășurate de fiecare partener și au analizat oportunități și direcții de colaborare pe viitor.
UniverCity este un proiect finanțat prin fondurile Erasmus + / Proiecte de parteneriat strategic în domeniul universitar (UniverCity Project 2020-1-BG01-KA203-079271) care își propune să găsească soluții pentru a sprijini dezvoltarea comunităților locale în rezolvarea unor probleme la scară mică. Acest obiectiv este atins prin organizarea la nivel local a unor competiții prin sunt selectate proiecte comunitare de cercetare care ulterior se derulează în echipe mixte formate din reprezentanți ai comunității și ai mediului academic și care, în faza de implementare, beneficiază de finanțare și asistență tehnică din partea unor experți.
UniverCity promovează inovarea și schimbul de experiență și know-how, prin cooperarea diverselor organizații, atât la nivel de politici cât și la nivel de practici educaționale și de cercetare aplicativă. Recomandările și seturile de instrumente dezvoltate în cadrul proiectului sunt diseminate în mediul academic și în alte grupuri de interese, la nivel local, regional, național și european.
Echipa de proiect UniverCity
On the 19th to 21st of October 2022, "Lucian Blaga" University of Sibiu organised in Brasov, Romania the transnational meeting of the representatives of the project consortium UniverCity – Strategic Partnerships of Higher Education for the Community: "St Kliment Ohridski" University of Sofia – Bulgaria (coordinator), "Lucian Blaga" University of Sibiu – Romania, Psiquadro Societa Cooperativa – Italy and Research & Training Point Foundation – Bulgaria. During the meeting, the consortium members discussed the progress of each partner's activities and explored opportunities and directions for future collaboration.
UniverCity is an Erasmus+ funded project / Strategic University Partnership Projects (UniverCity 2020-1-BG01-KA203-079271 project), which aims to find solutions to support the development of local communities in solving small-scale problems. This objective is achieved through organising local-level competitions through which selected community research projects are then implemented in joint teams of community and academic representatives, and which, in the implementation phase, receive funding and technical assistance from various experts.
UniverCity promotes innovation and the exchange of experience and know-how through cooperation between different organisations, both at the policy and at the level of educational practice and applied research. The recommendations and toolkits developed in the project are disseminated to academia and other interest groups at local, regional, national, and European levels.
UniverCity project team
---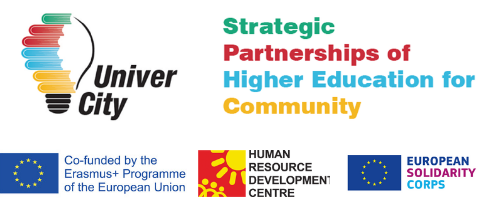 ---