.
.
.
---
---
---
In the period 15-18.07.2019, University Lucian Blaga of Sibiu (ULBS) organized a Workshop in the frame of the Erasmus international project "Strategic Platform Ameliorating Tunisian Higher Education on Food Sciences and Technology" SPAAT4FOOD. The project has as goal to bring together students, teachers and industry with the purpose to increase education quality and students employability. The coordinators of project consortium and project members from Tunisian universities (University of Sfax – project leader; University of Jendouba; University of Gabes), Universita degli Studi di Teramo Italia, Universidade Catolica Portuguesa Porto Portugal and ULBS members participated to the workshop.
During the workshop, the Career Guidance Office was visited, as an example of good practices by working with students at ULBS. The national and international projects Agropractik and KNOWinFOOD, coordinated by ULBS, were presented, as examples of realizing supervised practical stages and Problem-Based Learning internships.
Industrial collaborators from Solina Romania, Expertarom Food Ingredients and Amylon SRL participated to the workshop, bringing their experience and expertise in working with students and employing them as graduates.
The structure of the Professional Integration Unit and of the Virtual Lab were established.
The workshop was hosted by Education Hub, a generous space designed for interactive activities at ULBS. The University supported all the educational and cultural activities during the workshop.
În perioada 15-18.07.2019, Universitatea Lucian Blaga din Sibiu (ULBS) a organizat un workshop în cadrul proiectului internațional Erasmus "Platformă strategică de ameliorare a învățământului superior tunisian în domeniul științelor și tehnologiilor alimentare" SPAAT4FOOD. Proiectul are ca scop reunirea studenților, profesorilor și industriei în scopul creșterii calității educației și a angajabilității a studenților. La workshop au participat coordonatorii consorțiului proiectului și membrii proiectului de la universitățile din Tunisia (Universitatea din Sfax – lider de proiect, Universitatea din Jendouba, Universitatea din Gabes), Universita degli Studi di Teramo Italia, Universidade Catolica Portuguesa POrto Portugalia și membrii ULBS.
În cadrul workshopului, a fost vizitat Biroul de orientare în carieră, ca exemplu de bună practică prin colaborarea cu studenții la ULBS. Au fost prezentate proiectele naționale și internaționale Agropractik și KNOWinFOOD, coordonate de ULBS, ca exemple de realizare a stagiilor de practică supravegheate și stagii de învățare bazate pe rezolvarea de probleme.
La workshop au participat colaboratori industriali de la Solina Romania, Expertarom Food Ingredients și Amylon SRL, care și-au prezentat experiența și expertiza în lucrul cu studenții și angajarea lor ca absolvenți.
Au fost stabilite structura Unității de Integrare Profesională și a Laboratorului Virtual.
Workshopul a fost găzduit de Hub Education, un spațiu generos destinat activităților interactive la ULBS. Universitatea a sprijinit toate activitățile educaționale și culturale pe durata workshopului.
Contact: monica.mironescu@ulbsibiu.ro
---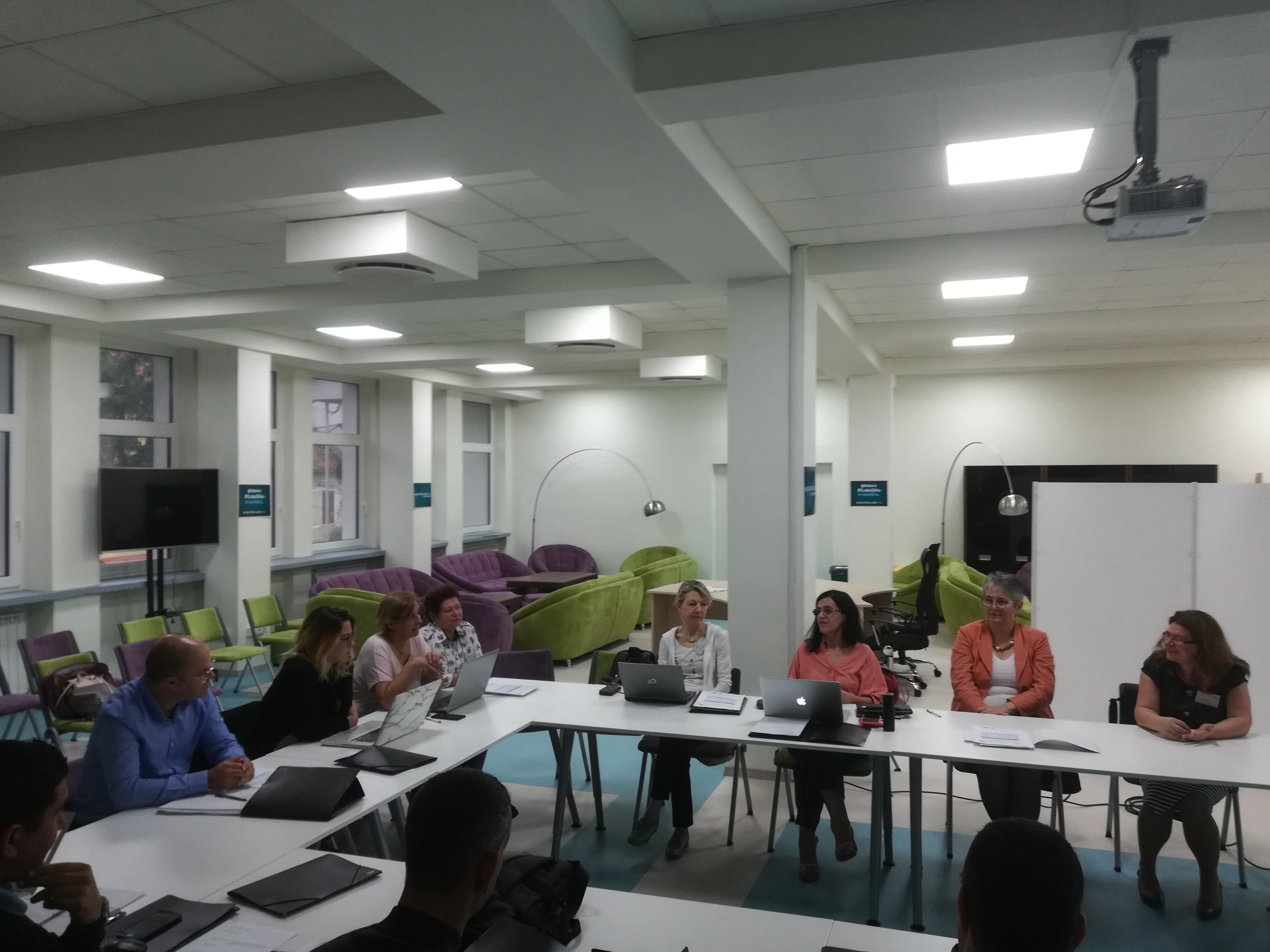 ---